Read Time:
8 Minute, 50 Second
Preparing for the worst is never easy. It's even harder when you're caring for an elderly loved one. When preparing for emergencies, we need to consider the specific needs of our seniors. Preparing your seniors for SHTF is a lot easier than you think.
My father was a 98 year old WW2 Veteran and my feisty mother who is 84 years young. Before my father passed away, both my parents were always very active and independent. Eventually they needed that extra hand to help them. I will share my personal experience as a caregiver for my parents.
---
Here are 5 tips on how you can prepare your senior for SHTF.
Tip #1: Use Technology To Keep Them Safe
One of the first things that you should do when preparing seniors for SHTF is to install emergency alert equipment. This type of equipment allows your loved ones to call for help when you are not around.
My first option for my parents was a medial alert device such as this Medical Guardian. For a monthly fee, your loved one can wear the bracelet or the necklace.
With fall detection or the push of a button, the monitoring system is just a phone call away.
The only problem is that my father said he wasn't going to wear that damn thing! They were from that generation with the commercial, "I've fallen! And I can't get up!".
Great idea, wrong customers. I had to find another way.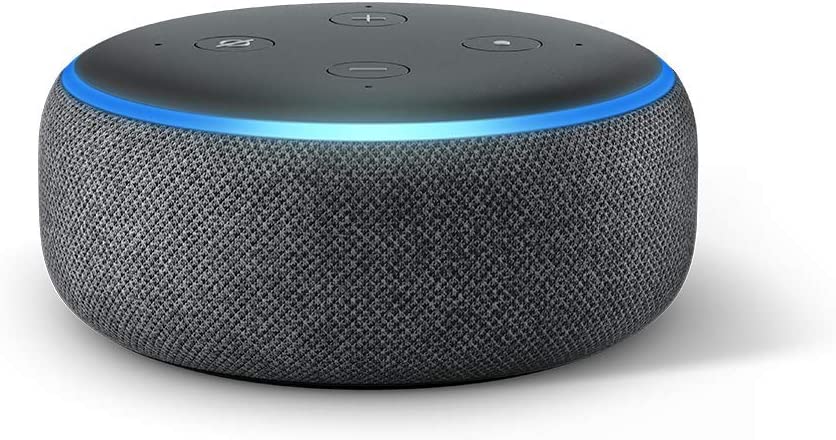 This was a better option for my parents – Amazon's Echo Dot with the famous (and sometimes annoying) Alexa.
In our home, we purchased five Echo Dots: one for each bedroom , living room and master bathroom. I wanted Alexa to always be within earshot of their daily activities.
With the Alexa, if they have an accident and unable to get to the phone, they can tell Alexa to call me. Although she cannot call 911, you can tell Alexa to call anyone on your phone's contact list.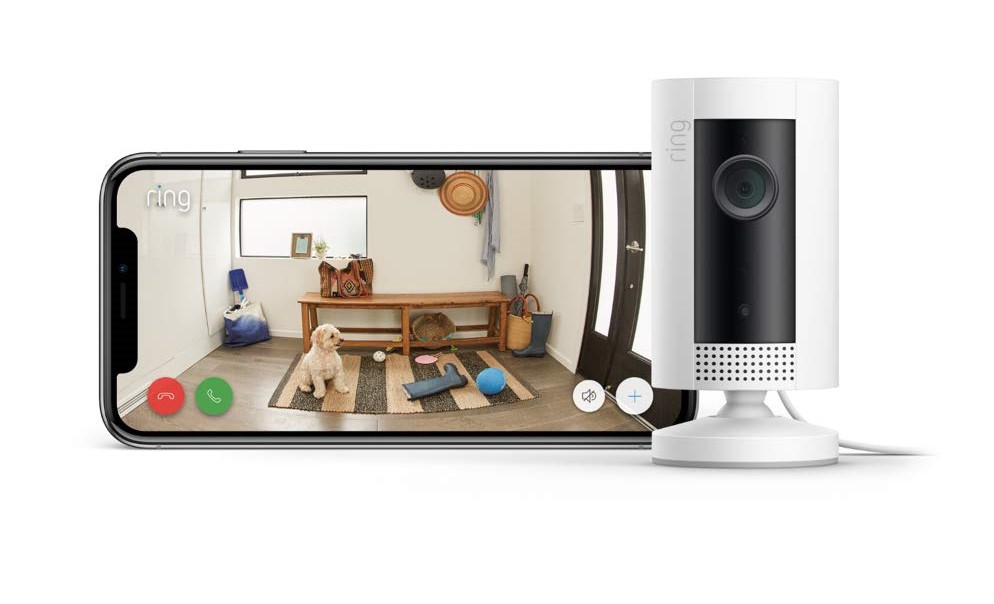 In addition to the Echo Dots, I also install three Ring cameras in the common areas and the front door.
With these cameras I can check if my parents are ok. I can also talk to them and hear them via the cameras.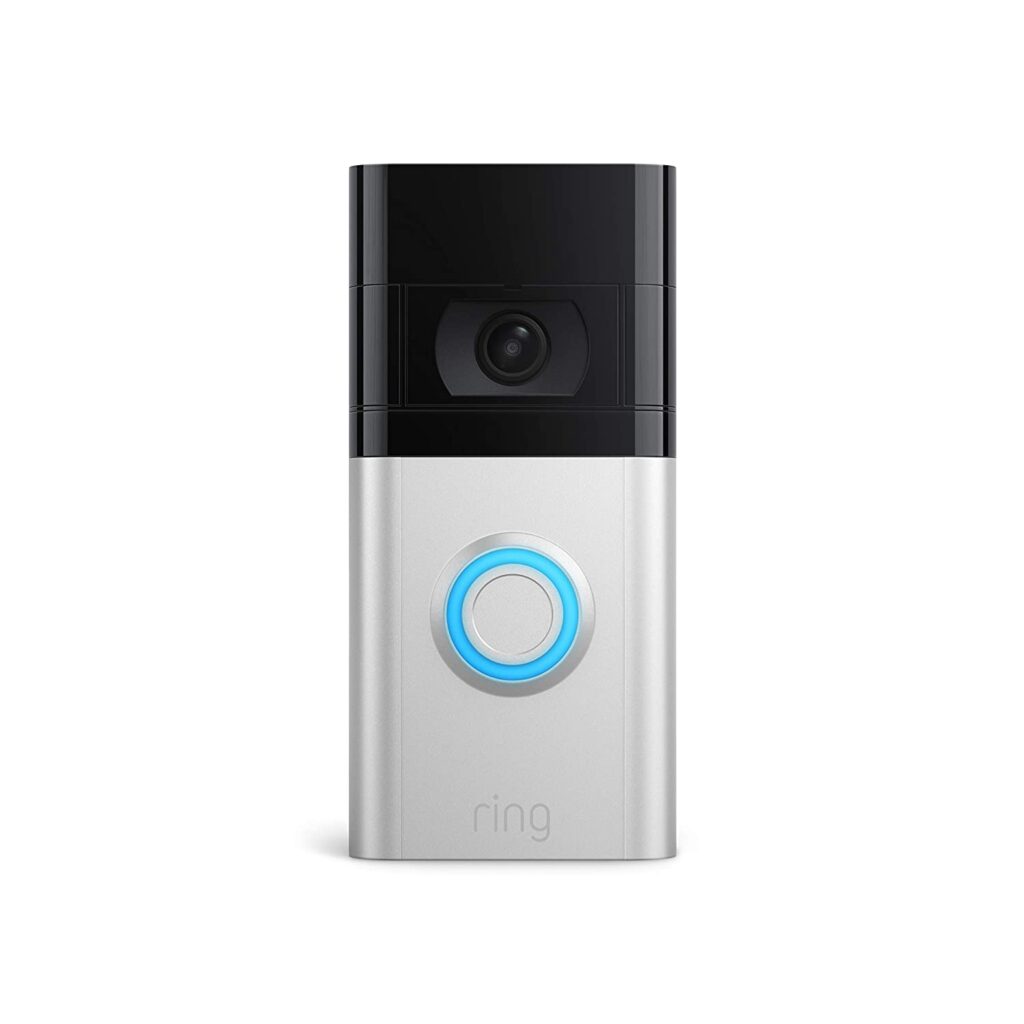 With the Ring Video Doorbell, I always know who is coming by the house. The camera alerts my cell phone if there is any movement at the front door.
If my parents are not home, I can respond and speak to whoever is at the front door.
So far it's helped us greatly with reducing conversations with our neighbor named "Karen".
My parents were always afraid of leaving the garage door opened whenever they left the house (even I forgot to close it several times!).
To avoid this type of security risk, I installed a remote garage opener, such as this Chamberlain My-Q Garage Opener, that also alerts my cell phone whenever the garage door opens or closes, even sends a reminder if the door is left open for a period of time.
In case of an emergency, I can also remote open the garage door to let someone in. No need to leave a key outside for someone else to find.
Another technical tool available is sharing your locations on your cell phones. We live within a 10-mile radius of a nuclear power plant. If there is an emergency while I am at work, mother knows she needs to head West away from the plant. By sharing your location with family members, you can always find each other.
Another honorable mention is wearing an Apple Watch. This one is a tough sell because of the cost. You can find great deals under $300, including fall detection feature. With the walkie-talkie feature, you can always reach your loved ones as long as you have Wi-Fi.
---
Tip #2: Have SHTF Emergency Kits Ready
Another important thing that you should do when preparing seniors for SHTF is to have their emergency kits ready or bug out bags. This is a bag containing items that your loved ones will need in case of an emergency situation.
FEMA recommends having enough food, water and other supplies in your kit to last for at least 72 hours. to last you at least 72 hours. For an extensive list of what items to have, follow this link.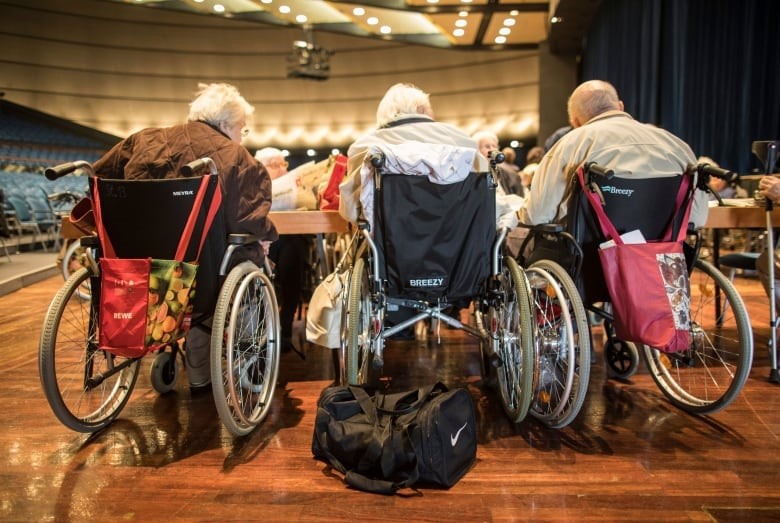 Do consider their age and limitations. If your senior loved one cannot manage a back pack weighing 15-20 lbs, then consider a bag on wheels or even a small carry one suitcase.
In our household, my backpack had most of the equipment, but my parents had their basic necessities, change of clothing and medications. As my parents aged, I opted for a wheeled backpack. Just remember they may not be able to carry their fair share.
In addition, make sure they have a fully stocked first aid kit. And if they love going on their Sunday drives, an emergency kit or a get home bag for their vehicle.
And don't forget their beloved pets – they need their own bug out bag too!
---
Tip #3: Have a back up supply of food and water
Keeping an emergency supply of food and water is something that every prepper does. However, this is also something that you need to do when preparing seniors for SHTF.
---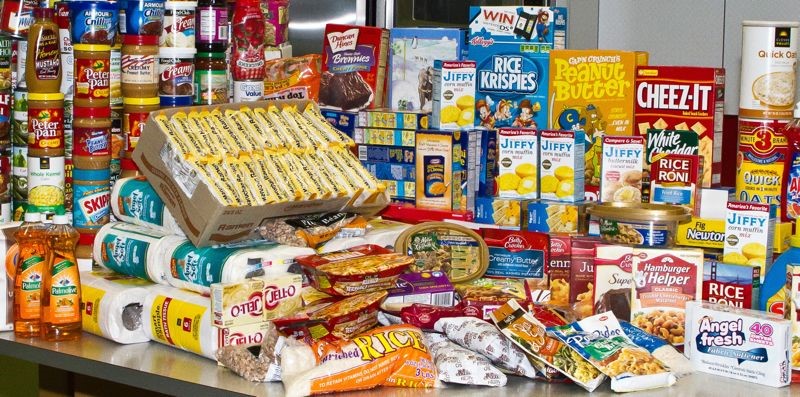 Many seniors have dietary restrictions and certain health conditions that may require them to change their diet. However, in the event of SHTF, it's unlikely that you'll have time to go to the grocery store to buy more food. That's why it's important to have a back up supply of food so that your loved ones can continue eating their normal diet.
---
What is a basic list of non-perishable foods to have?
Canned beans, fruits and vegetables
Canned fish and meats (tuna, salmon, chicken)
Canned soups
Pasta sauces
Dry beans
Rice
Pasta varieties
Oatmeal
Nuts
Flour
Peanut and nut butters
Oils
Vinegars
Sweeteners (sugars, honey)
Spices
Chicken/meat bullions
Dry milk
Of course, adjust your emergency food pantry according to dietary needs.
You should also make sure to have a back up supply of water and a means to replenish your water supply. In SHTF situations, clean drinking water is often hard to come by. That's why you should have a back up supply of water in case your water supply gets cut off.
---
Tip #4: Store Important Documents And Goods
Another thing that you should do when preparing seniors for SHTF is to store important documents. This includes things like legal documents, insurance papers, medical records, and more.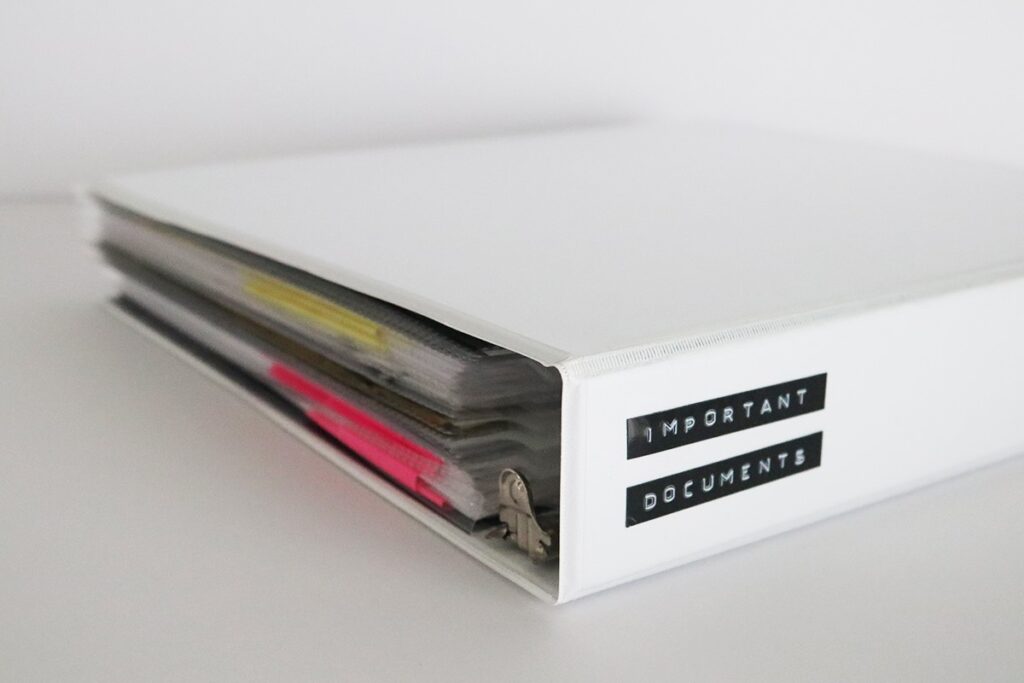 When my father passed away, one thing that help me take care of his affairs, was to keep all important documents in one place. He always carried this old little suit case for as long as I can remember. When I finally saw it's contents, there was a wealth of information, including his various diplomas, bachelors degree, birth certificates and more. It certainly made it much easier to take care of his affairs.
Basic list of documents to keep in your emergency binder:
Social security cards
Birth certificates
Passports Recent photos of family members
Driver's license
Insurance declaration pages
Property deeds Vehicle titles/registrations
Wills/Power of attorney/Health care proxies
Marriage license/divorce decrees
Pet immunization records
Financial statements (bank, investments, retirement accounts)
Emergency contacts: name, address, phone numbers of personal contacts, doctors, attorneys, insurance companies in printed form and keep in a zip lock bag. Do not rely on your electronics to keep this essential information.
You should also store valuables like jewelry and family heirlooms. If something terrible happens and you lose your home, you will need these papers and valuables to replace what you lost.
This is especially important if you are caring for a senior who has children or grandchildren. Because those children may need these papers to access important things like healthcare and inheritance.
Tip #5: Have An Evacuation Plan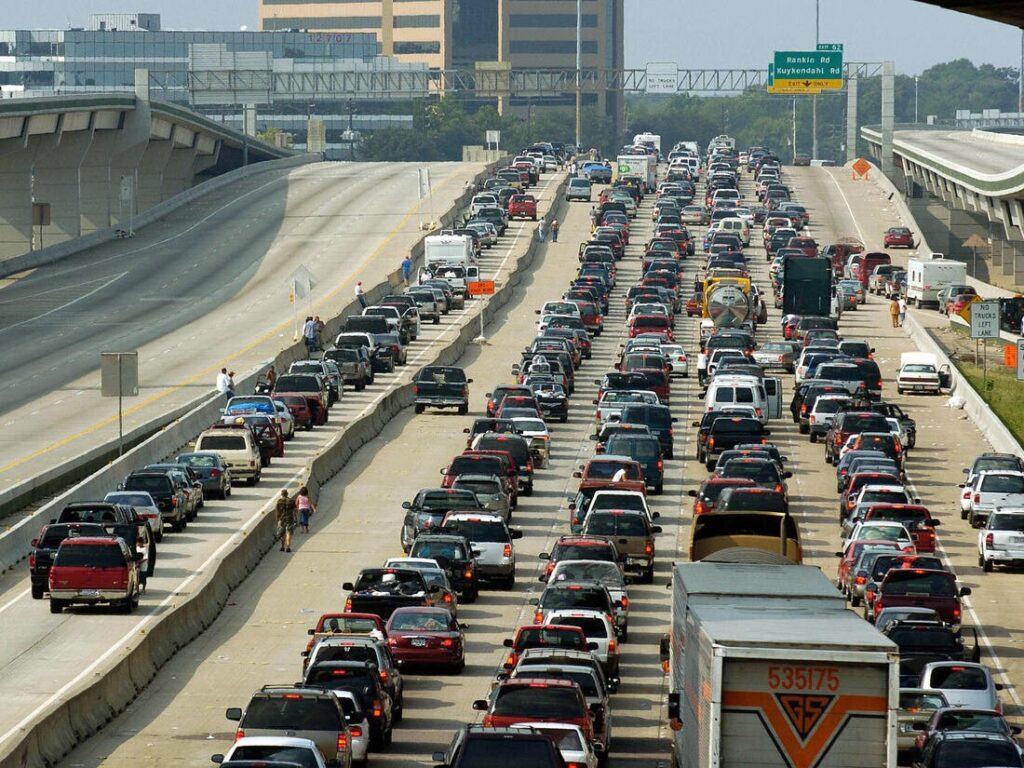 Lastly, you should make sure that you have an evacuation plan. This is a plan for when your loved ones need to evacuate their homes.
There are many different situations that may require evacuation, including natural disasters, nuclear plant accidents, chemical spills, and wildfires.
If there is an eminent danger where your parents will need to evacuate, will they know what to do? Do they know the evacuation route? Do they know what to take with them?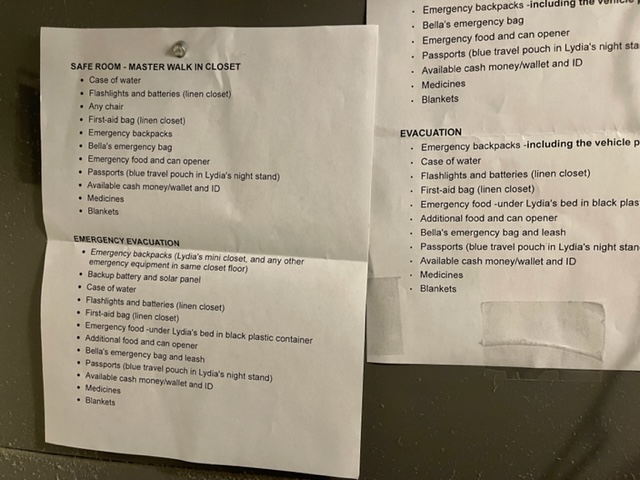 This is a sample of our 1) shelter in place and 2) evacuation plans. One sheet is taped to the A/C, the other is stuck with a magnet so it can be taken down.
I am currently working on simplifying the location of all emergency equipment to make it easier to find.
We live in Florida, home of the seasonal hurricanes and tornado warnings. During a recent tornado watch we had to shelter in place. The experience showed me that I needed to make the interior walk in closet more roomy to add the emergency kits and other last minute supplies to take with us.
Though your home has hurricane shutters, your home may not be strong enough to withstand a Cat 5 hurricane. Know you available shelters and sign up ahead of time before the hurricane warnings. Keep in mind some shelters may not accept pets. If your senior has a chronic illness that will require special medical equipment, seek special needs that can accommodate the individual and one other person.
Conclusion
Now that you know the 5 tips to prepare your seniors for SHTF, make sure to implement them in your daily life. Discuss the plans regularly with your loved ones. This will help ensure that your loved ones are safe and sound no matter what happens.
Being a caregiver isn't an easy job, but it's also not something that you have to do alone. If you are struggling with the task of taking care of a loved one, you can always reach out to other people who have been in your shoes and have dealt with similar hardships.
Keep your loved ones safe.
Keep in mind that we may receive commissions when you click our links and make purchases. However, this does not impact our reviews and comparisons. We try our best to keep things fair and balanced, in order to help you make the best choice for you.
What other emergency preparations have you done for your beloved seniors? Please share in the comments below.